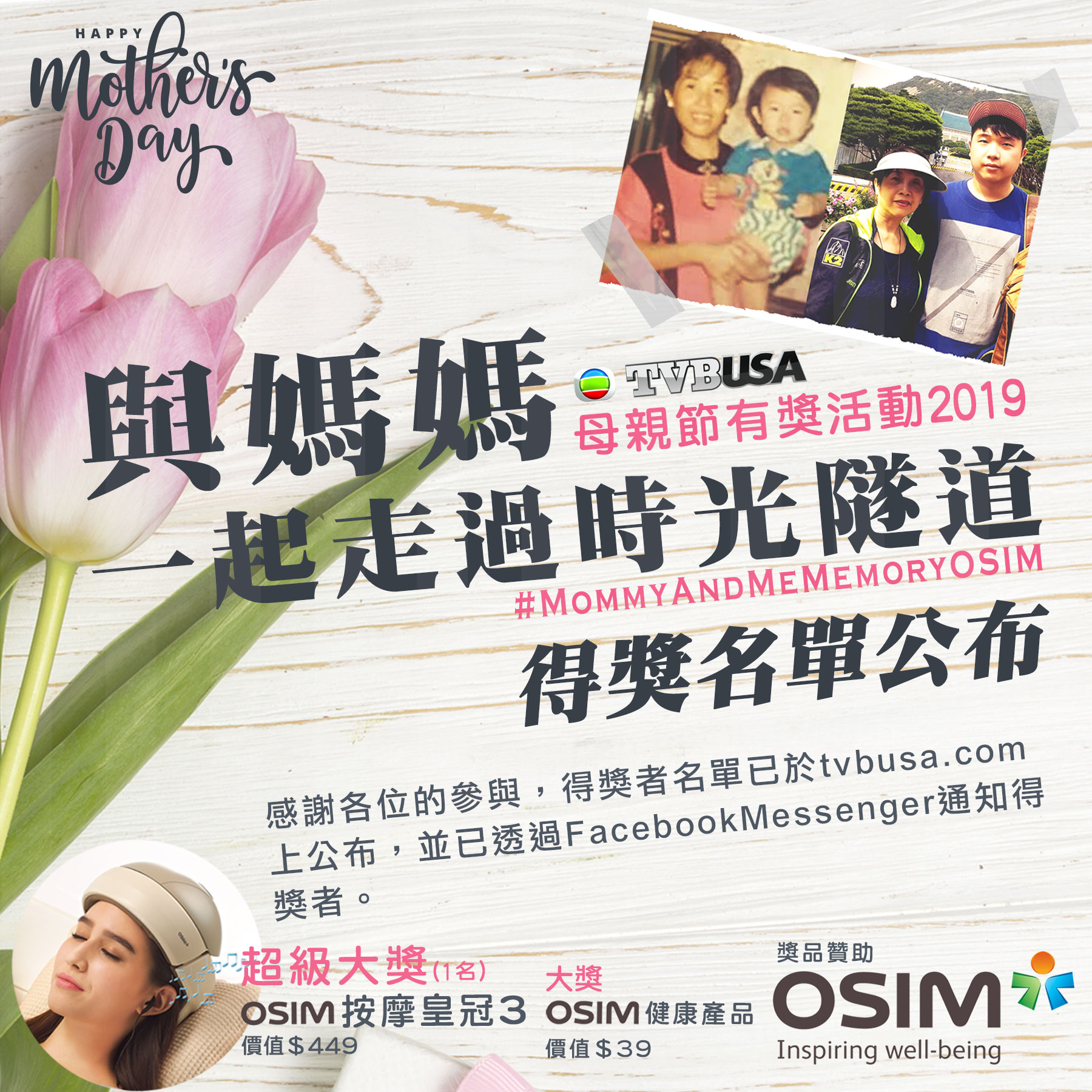 今個母親節,與媽媽一起走過回憶隧道,重溫美好時光!
得獎者名單
超級獎:
Rachel Chiu
大獎:
Edda Chen
Chen Fangfang
Hannah Huynh
Vivian Keung
Arnold Kwan
Anna Lee
Carmen Lee
Karen Lee
Arabella Shum
Harson Tang
Lac Tang
Byron Wong
Fung Yeung
Bella Zhen
活動截止時間:2019年5月12日 西岸時間 晚上11時59分
獎品:
超級獎:OSIM按摩皇冠3 頭部按摩器1部 (價值$449)
大獎:OSIM磁力穴位按摩鞋墊1對 (價值$39)
TVBUSA將透過Facebook Inbox Message聯絡得獎者,或於參加活動的照片Po文內留言通知。
獎品僅限於OSIM南加州門市部親身領取或由親友代領:
OSIM Westfield Santa Anita: 400 S. Baldwin Ave., Arcadia, CA 91007
OSIM Brea Mall: 1065 Brea Mall #1016D, Brea, CA 92821
領獎截止日期:2019年5月31日
獎品資助:OSIM
Terms & Conditions
No purchase necessary. Open to U.S. residents.  Void where prohibited.
Participants must be 18 years of age or older and legal residents of the continental U.S.A., acknowledge and agree to all Terms & Conditions.
Event period: 4/20/2019 Saturday 12 A.M. PDT to 5/12/2019 Sunday 11:59 P.M. PDT.
To enter, participants must complete all the steps stated under "How To Play". TVBUSA reserves the rights to void or disqualify any entries TVBUSA finds invalid.
Total 31 winners will be chosen based on the event rules stated under "How To Play". Announcement of winners will be available on TVBUSA.com no later than 5/13/2019 Monday 6 P.M. PDT.  Each winner will be notified within 48 hours after the event expires.
To claim prizes, winners must follow requirement stated under "To Claim Your Prize".
Prizes are the sponsored goods of OSIM for TVBUSA's "Mommy And Me" event. TVBUSA is not responsible for the quality or damage of such goods, nor does TVBUSA holds any liability towards what may be caused by the said goods.  Any claims related to the said goods shall be addressed directly to OSIM.
All prizes cannot be redeemed for cash or substituted for any other items.
By submitting your entry, entrants agree to be added to TVBUSA's mailing list, and authorize TVBUSA to collect, use, process, transfer and store any and all personal data provided for promotional use. Winners' data will be shared with OSIM for verification purposes of prize claiming.
Images shown in any of the promotions, whether in video, on print, online or offline, are for reference only.
TVBUSA reserves the rights in its sole discretion to change these Rules, Terms and Conditions without notice.
TVBUSA reserves the rights in its sole discretion to substitute the prizes, modify, or cancel this event at any time without notice.